Tuscaloosa High School
Class Of 1968
In Memory
Jimmy Perkins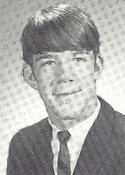 CROPWELL Jimmy Lynn Perkins, Sr., age 60, of Cropwell, passed away Nov. 12, 2010, at home. Services were held Monday, Nov. 15, 2010, at Our Lady of the Lake Catholic Church in Cropwell. Burial followed in Valley Hill Memorial Gardens in Pell City.

Jimmy was a rabid Alabama fan. He loved fishing, Alabama football, and music. Jimmy was also a very talented singer and musician.

Jimmy was preceded in death by his father, Faris Perkins; mother, Mildred Cunningham Perkins; and stepson, Tim Densmore, whom he is with now.

He is survived by his loving wife of 7 years, Kathy Perkins; son, Jimmy Perkins, Jr. (Bobbi Jo); daughters, Julie Thomas and Laura Taff (Shawn); stepchildren, Billy Pope, Eddie Green, Valerie Densmore, Sean Densmore, and Heather Moore.

In lieu of flowers, memorial donations may be made to Lakeside Hospice, 4010 Masters Road, Pell City, AL 35128.