Tuscaloosa High School
Class Of 1968
In Memory
Carol Krupp (Goodwin)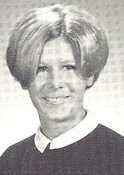 TUSCALOOSA Carol Krupp Goodwin, age 60, of Tuscaloosa, died Jan. 29, 2010, at DCH Regional Medical Center. Graveside services will be 2 p.m. Monday, Feb. 1, 2010, at Tuscaloosa Memorial Park with Dr. Ken Dunivant officiating and Tuscaloosa Memorial Chapel Funeral Home directing. Visitation will tonight from 5 to 7 p.m. at the funeral home.

Her mother, Mary Clark Krupp, preceded her in death.

Survivors include her husband, David G. Goodwin of Tuscaloosa; daughter, Julie Coleman (Kyle); son, Wesley Goodwin; sister, Margaret Conrad of Tuscaloosa; father, Ralph Krupp; and granddaughter, Kate Coleman.

Carol was a life long resident of Tuscaloosa. She graduated from Tuscaloosa High School in 1968. She attended Mississippi State College for Women in Columbus. Carol had a love of the beach, Disney World, painting and woodworking. She made many friends during her travels to craft shows across the south. Carol loved her family and especially her granddaughter, Kate. Her laughter and smile will be missed by all those who knew and loved her.

Honorary pallbearers are Lee and Janet Walker, Debbie Baker, and the Ladies of the Tuscaloosa Bowling Association.