Tuscaloosa High School
Class Of 1968
In Memory
Mrs. Gloria Benefield (English Teacher)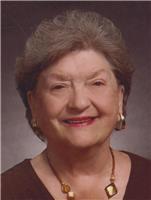 TUSCALOOSA – Gloria Fisher Benefield, age 85, of Tuscaloosa, was born in Jackson, Ala. on April 21, 1931 and went to her heavenly home on January 17, 2017. Services will be 2 p.m. Saturday, January 21, 2017, at Memory Chapel Funeral Home with Rev. Penny Ford and Rev. Gary Ward officiating. Burial will follow in Memory Hill Gardens with Memory Chapel Funeral Home & Cremation, a Dignity Memorial Provider directing. Visitation will be one hour prior to services at the funeral home.
She was preceded in death by her parents, Vernard and Hazel Fisher of Tuscaloosa and ex-husband, Robert Thomas Benefield of Northport.
She is survived by her four daughters, Elaine B. Wheat-Strickland (Truman), Debbie B. Wallace (Robert), Jackie B. Sartain and Bobbi B. Cork; eight grandchildren, Laci W. Kizziah, Gary W. Wheat, Jr., (Susie), Kami W. Kornegay (David), Rob Wallace (Joye), Haley W. Martin (Brad), Hunter Sartain (Andrea), Clay Sartain (Jesse) and Megan C. Whatley; seventeen great-grandchildren, Brittany Kizziah, Brooklyn Kizziah, Garron Kizziah, Ramsey Kizziah, Avery Wheat, Emory Wheat, Mabry Kornegay, Kylee Bailey, Maci Jo Martin, Luke Martin, John Collins Wallace, Ensley Sartain, Camden Sartain, Rhett Sartain, Lena Whatley, Johnny Fondren and Kaiden Johnson; and three great-great-grandchildren, Kynlee Kizziah, Kyler Kizziah and Addison Shore.
Gloria lived in Tuscaloosa her entire life. She graduated from Tuscaloosa High School in 1948, where she was Sr. Class Secretary, member and president of the band and many other activities. She received her Bachelor of Science from Huntingdon and her Master of Arts from the University of Alabama.
She taught for 35 years in the Tuscaloosa City system (UPES, THS and CHS).
Gloria was a member of the ADK Honorary Teachers Sorority, a member of Trinity United Methodist Church, where she was active in the Choir, Sunday School and United Methodist Women.
She was active in the Triple T Travel Club, First Baptist of Tuscaloosa and attended Caring Days.
Gloria loved the Atlanta Braves, Alabama football, reading, traveling, movies, her special pets and the beach. She was a dedicated daughter, mother, grandmother, great-grandmother, great-great-grandmother, and friend. She supported her children and "grands" in all of their various activities.
Above all, she was a beloved child of God and always put Him first in her life! She will be greatly missed by those who called her "Mother", "Gram" and "friend."
Pallbearers will be Gary W. Wheat, Jr., David Kornegay, Rob Wallace, Brad Martin, Hunter Sartain, Clay Sartain, Garron Kizziah and Keith Waid.
Honorary pallbearers are her sons-in-law, Robert Wallace and Truman Strickland, members of Trinity United Methodist Church, Dr. Stephen Browne, Caring Days and Hospice of West Alabama.
In lieu of flowers, the family suggests that donations be made to Trinity United Methodist Church and Caring Days.