Tuscaloosa High School
Class Of 1968
In Memory
Mrs. Betty Booth (English)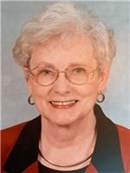 NORTHPORT - Betty Jean Collins Booth, age 88, passed on August 26, 2019 surrounded by her loving family.
Betty was born on February 8, 1931 and grew up in Northport, Alabama, a community she loved and served all her life. She graduated from Tuscaloosa County High School in 1948 where she participated in numerous organizations and activities and received honors and recognition. She attended Huntingdon College and later graduated from the University of Alabama with a B.A. degree in sociology and a secondary high school teaching certificate. Betty taught at Tuscaloosa High School for several years as an English instructor where she inspired and encouraged countless students who loved her.
On December 26, 1951, Betty married her childhood friend and next door neighbor, James L. "Sonny" Booth, Jr., in a union that lasted 68 years until her death. Betty was a member of the First Baptist Church of Tuscaloosa, Alabama, and a beloved member of the Good Samaritan Sunday School Class. During her lifetime, she taught Sunday School for twenty five years. Betty was very civic-minded, having served in alumni advisory roles for the UA chapter of the Alpha Chi Omega sorority. She was a charter member of the Elysian Club, and also belonged to the Pilot Club, Friends of Historic Northport, IMPACT, and Reach to Recovery. She served as a volunteer for more than twenty years at the DCH Regional Medical Center and the American Cancer Society. In 2005, Betty received the Northport Pioneer Heritage Award and was also awarded the 2008 American Cancer Society's Mid-South Division Community Volunteer of the Year. Betty worked tirelessly for many years in devotion to
breast cancer
patients who treasured her cheerful spirit and compassionate nature.
Betty is survived by her loving husband, Sonny; their two daughters, Jeanne Booth Scott and Sonya Booth Davis (Jim); one grandchild, Tully Booth Davis; and a niece, Sallie Curry Hogue (Mark).
She was preceded in death by her parents, William Tullie Collins and Frances Merchant Collins; her sister, Billie Frances Curry (Thomas); and brother, French Gerald Collins.
A memorial service will be held at 12 p.m. Friday, August 30, 2019, at First Baptist Church of Tuscaloosa with Tuscaloosa Memorial Park and Chapel directing. Visitation will be held two hours prior to the service at the church. Dr. Gil McKee and Dr. Hayse Boyd will officiate.
Honorary pallbearers include the Good Samaritan Sunday School Class of First Baptist Church of Tuscaloosa, Tuscaloosa County High Class of 1948, Dr. John and Janet Waits, Dr. Hayse and Peggy Boyd, Frank Hamiter, Bill Hamiter, Dr. Earl and Ann Glenn, Dr. Norman and Jean Carlson, Billie Jean Mitchell, Young Boozer, Chuck Gerdau, Vicki James, Kathy Claybaugh, Rhonda Freeman, Dr. Stephen Browne, Dr. Phil Hemstreet, the staff at DCH Cancer Treatment Center, IMPACT, and Reach to Recovery. The family also wishes to express gratitude to Dr. David Hinton, the wonderful nurses and staff at DCH and Northport DCH, and Dorothy Miller whose patience and personal care was a blessing to Betty and her family during her illness.
In lieu of flowers, the family request donations to the DCH Cancer Center, The Foundation at First Baptist Church of Tuscaloosa, or Friends of Historic Northport.
Published in Tuscaloosa News on Aug. 28, 2019