Tuscaloosa High School
Class Of 1968
In Memory
Mrs. Marion Smith (Math Teacher)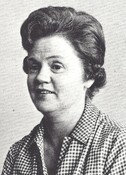 HUNTSVILLE Marion Wright Smith, age 92, of Huntsville, died Dec. 24, 2011.

Mrs. Smith was born on May 27, 1919, in Big Stone Gap, Virginia, the daughter of Reverend James Miller Smith and Katherine Carter Barham Smith, and she grew up in Big Stone Gap where her father's entire ministry was in the Presbyterian mission field in Southwestern Virginia.

She graduated from Wilson College in Chambersburg, Pa. in 1940 with an AB degree in Mathematics and Music and completed post-graduate courses at The University of Alabama.

During World War II, she taught at John's Island High School in Charleston, S.C.

While living in Burlington, Vt. she served as assistant organist and the organist for the youth choir of the First Congregational Church in Burlington; after moving to Tuscaloosa, Ala. in 1951, she taught mathematics for many years initially at the Tuscaloosa High School and later at The University of Alabama.

Mrs. Smith had a strong love of family, the church, music, and teaching. As an active member of the First Presbyterian Church in Tuscaloosa, she was an Elder, Deacon, Sunday School Teacher, Circle Bible Moderator, Treasurer of the Presbyterian Women, and member of the Finance Committee, the Budget and Funding Committee, and the Christian Education Committee. She was also active in DAR, DAC, P.E.O. Sisterhood Chapters ALI and ALM, Modern Culture Club, University Women, and Friends of the Library.

Mrs. Smith was preceded in death by her husband, Dr. Donald Foss Smith, and her brother, Dr. James Miller Smith Jr. of Boulder, Colo.

She is survived by her daughter, Marion S. Bishop (Charlie) of Huntsville; and her son, Donald Foss Smith Jr. (Margaret) of Fairplay, Colo.; four grandchildren, Susan Bishop Page, Donald F. Smith III, Kathryn M. Smith, and Christopher L. Smith; and four great-grandchildren, Gavin Price Smith, Daniel Iverson Smith, Mallory Jean Smith, and Hannah Margaret Smith.

Visitation will take place in Holding Funeral Home's chapel today from 12:30 to 1:30 p.m. The funeral service will be conducted following the visitation with the Rev. Tony Palubicki officiating. Graveside services will follow in Glencoe Cemetery in Big Stone Gap, Va. with Holding Funeral Home of Big Stone Gap, Va. directing.

In lieu of flowers, the family requests that contributions be made to the Presbyterian Home for Children in Talladega, Ala., the Christian Appalachian Project in Lancaster, Ky., or the Donald F. Smith Memorial Endowed Scholarship in Chemistry in the College of Arts and Science at The University of Alabama.
Published in Tuscaloosa News on December 28, 2011