Tuscaloosa High School
Class Of 1968
In Memory
Carol Matthews (McLaughlin)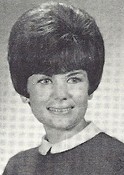 HUEYTOWN | Linda Carol Matthews McLaughlin, age 56, of Hueytown, died Dec. 7, 2006 at her residence. Graveside services will be 1 p.m. Sunday, Dec. 10, 2006, at Memory Hill Gardens with Minister Wayne Kilpatrick of Heritage Place Church of Christ and Bert English officiating. Magnolia Chapel Funeral Home North is directing.
Her parents, Laren and Clancy Matthews and her granddaughter, Angel McLaughlin preceded her in death.
Survivors include her husband of 37 years, Jimmy W. McLaughlin; his parents, K.A. and Tera Mae McLaughlin of Tuscaloosa; her children, Patrick McLaughlin (Mamie) of Helena, Amy McLaughlin Smithey (David) of Hueytown, and Lucas McLaughlin (Kristi) of Hueytown; sister, Gail Dyer (Richard) of Northport; brother-in-law, John McLaughlin (Judy); grandchildren, Maddie Mae McLaughlin, Madison Marie McLaughlin, Laren Grace Smithey and Alexander Daniel McLaughlin; and a number of loving nieces and nephews.
Formerly of Tuscaloosa, Carol attended Tuscaloosa High School and graduated Class of 1968. She was a devoted wife, loving and supportive mother, a sister that was always a best friend and a "Nana" who dearly loved and enjoyed her grandchildren. Carol's death was a terrible loss but we celebrate her homecoming to her Lord and Savior and the family who preceded her.
Active pallbearers will be James Lee, Dodie York, Ronnie Glenn, Dale Hubbert, Don Wheeler and Randall Bondurant.
Honorary pallbearers are Homewood Church of Christ and caring staff of New Beacon Hospice Services of Birmingham.