Tuscaloosa High School
Class Of 1968
In Memory
Stanley Logan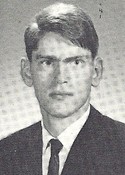 TUSCALOOSA Stanley Logan, age 62, of Tuscaloosa, died Aug. 13, 2011. Services will be 11 a.m. Wednesday at Memory Chapel Funeral Home with Rev. Truitt Allison officiating. Burial will follow in Memory Hill Gardens with Memory Chapel Funeral Home, a Dignity Memorial Provider, directing. Visitation will be one hour prior to services at the funeral home.

He was preceded in death by his father, Hubert Logan.

Survivors include his sister, Peggy Beasley (Jon); mother, Jean Logan Norris and stepfather, Jack Norris; nieces and a nephew, aunts, and uncles.

Published in Tuscaloosa News on August 16, 2011