Tuscaloosa High School
Class Of 1968
In Memory
Karen LaMoreaux (Bryan)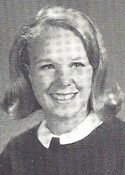 TUSCALOOSA Karen LaMoreaux Bryan, age 59, of Tuscaloosa, died March 9, 2009. A memorial service will be held at Christ Episcopal Church at 11 a.m. Thursday March 12, 2009, with the Rev, David Maginniss officiating. Visitation will follow at Christ Episcopal Church.

Her father, Philip Elmer LaMoreaux, Sr, preceded her in death.

Survivors include her husband, Colgan Hobson Bryan, Jr.; son Colgan Hobson Bryan Ill; daughter, Sara Munro Bryan Pasquier (Guillaume) of Paris, France; mother, Ura Mae Munro (Bunnie) LaMoreaux; brothers, Philip Elmer LaMoreaux, Jr. (Rebecca); and James Wood LaMoreaux (Nicole).

Karen served as President, Vice President and Corporate Counsel of P.E. LaMoreaux & Associates, Inc., during a career that spanned three decades. She received a B.A. degree from Denison University, a master's degree from Columbia University and a Juris Doctor degree from the University of Alabama School of Law. She was admitted to the practice of law in Alabama and Florida. She participated in the Advanced Mediation Program at Harvard University and was a member of the American Academy of Attorney-Mediators.

Active in the local community, Karen was a member of Christ Episcopal Church; the Tuscaloosa County Bar Association; and the Board of Directors of Wachovia (formerly SouthTrust Bank), the Family Counseling Service and the Tombigbee Girl Scouts Council. She served on the Tuscaloosa County Private Industrial Council and the External Advisory Council of the School of Mines and Energy Development. She was an officer of the Druid City Historic Neighborhood Association and participated in numerous West Alabama Chamber of Commerce committees, serving as the chair of its Coalbed Methane Dialogue Team. She was a team captain for the Children's Hands-on Museum and a corporate representative for the United Way. She was a Life Member of the Junior League of Tuscaloosa and the Girl Scout of America. Karen was also a member of the Tuesday Night Supper Club, Les Danseurs, Gaities, Jesters and Sybarites social clubs.

Karen was a member of the Alabama State Bar (ASB). She served on the Long-Range Planning and Alternative Methods of Dispute Resolution committees and was publisher of "The EnLaw" and Chair of the Section of Environment. In 2005, she was honored with the President's Award for service to the ASB. Karen was a Certified Alabama Mediator and a charter member and officer of the Alabama Academy of Attorney Mediators. The Governor of Alabama appointed her to serve as Co-Chair of the Governor's Task Force on Implementation of Alternative Dispute Resolution in State Agency Settings, a position she held from 1998 to 2002.

Karen was active in the American Bar Association (ABA), serving in the House of Delegates as an Alabama delegate and as a member of the Nominating Committee. She also served as Membership Officer Of the Section of Environment, Energy, and Resources; a member of the Executive Council, Strategic Planning Committee and the Section of Litigation; and co-chair of the State and Regional Environmental Cooperation Committees. Karen was also a member of the Florida Bar Association's Environmental and Land Use Law Section. In 2003, she was elected as an Alabama Fellow and a member of the American Bar Foundation.

Karen's greatest gifts were the love, generosity, enthusiasm and guidance she shared with her family, friends and the many others whose lives she touched.